14 Benefits Of Cloud Computing With Examples
Cloud computing has been around for nearly two decades gaining popularity ever since. Today, according to a rough estimate, nearly 90% of all businesses in the UK are using cloud services.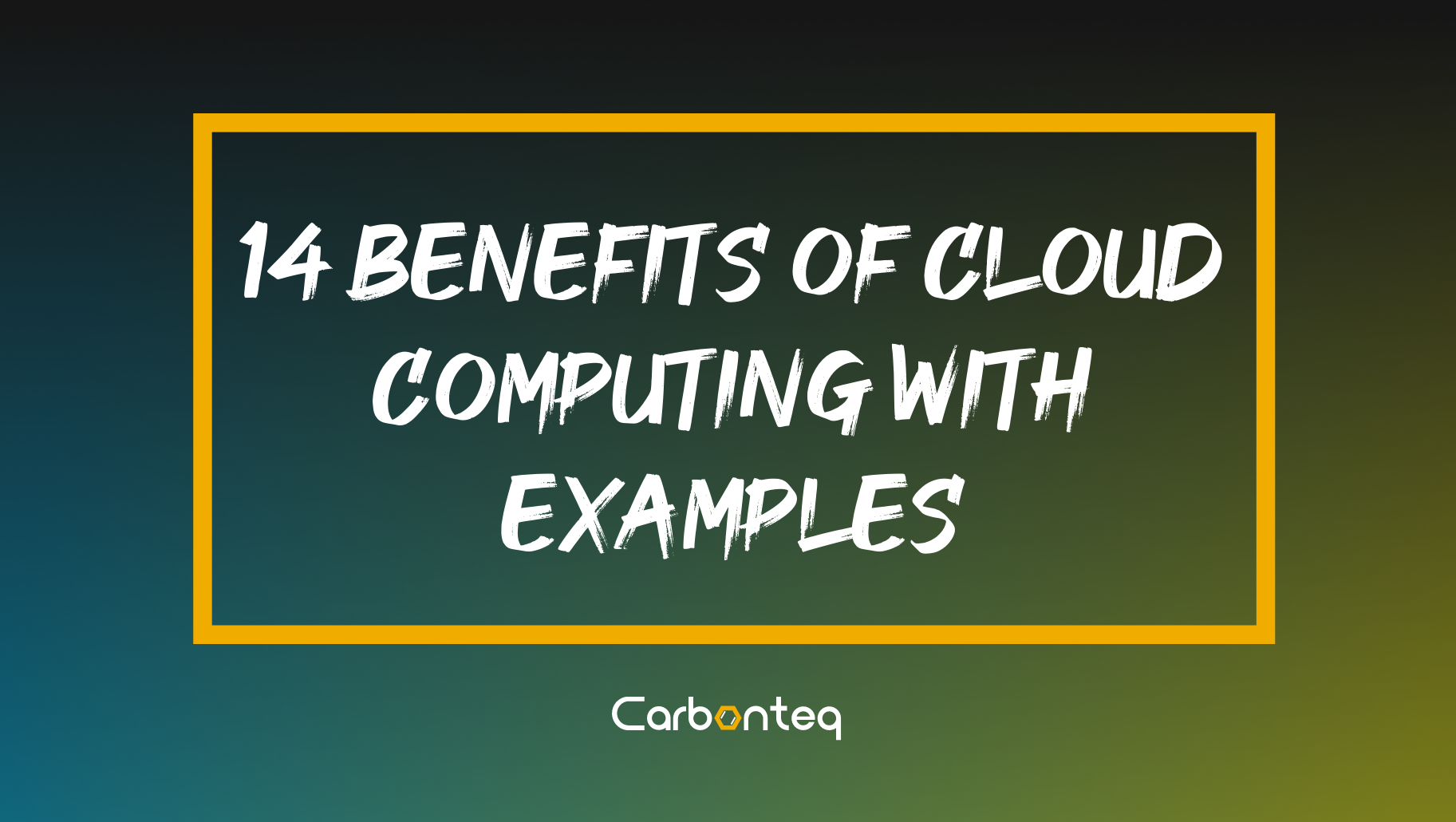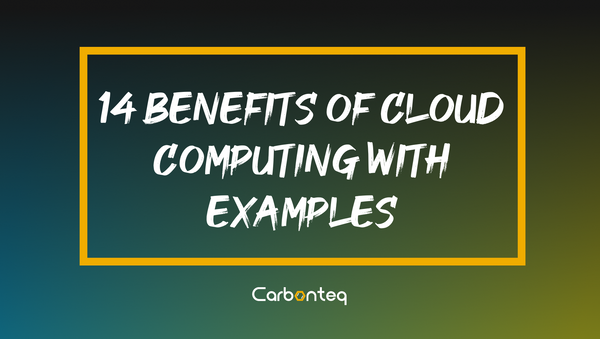 Gmail, Facebook and Google drive, all are cloud-based applications.
Cloud computing has been around for nearly two decades gaining popularity ever since. Today, according to a rough estimate, nearly 90% of all businesses in the UK are using cloud services.
According to Amazon Web Services, the biggest name in the cloud computing industry, cloud computing is:
"…On-demand delivery of compute power, database storage, applications, and other IT resources through a cloud services platform via the internet with pay-as-you-go pricing…"
Before moving on the benefits let's break down the definition and try to understand a little bit more about cloud computing. There are four aspects to be noted in this definition:
Computing Power
Database Storage
Applications
IT Resources
Computing Power
The latest example for computing power is Stadia by Google. Stadia is a cloud-based platform for streaming games directly to your device. It utilizes the power of cloud computing to run the game on servers, mitigating the need for expensive consoles.
The same goes for all other application that utilizes cloud computing. Applications and software run on the cloud while sending the results and outputs to the user.
Database Storage
Data Storage? When it comes to data storage you might always be familiar with Dropbox and Google Drive, both are examples or cloud storage.
Applications
Applications Development is where the advantages of cloud computing really take off. Building scalable cross-platform applications is the pride and joy of cloud application development. Not only that, if you are using AWS to develop your application you have to option to set up your work environment directly on the servers. By doing so, you will have the freedom to code form any device, even a smart TV if you choose to do so.
IT Resources
This is one of the major use of cloud computing for businesses. With the help of a cloud-based service, any company can deploy remote servers acting as extensions to their existing local IT Network.
Taking advantage of remote servers equals no need to spend on new expensive servers, which in turn becomes an advantage.
Imagine I had jumped to benefits without telling you the basics? It would have turned out to be confusing and uninteresting.
Now that you are familiar with the uses of cloud computing, let's jump to benefits and learn how these uses yield benefits.
A little nugget of truth before we move forward: The name "Cloud Computing" was inspired by the use of cloud symbol to represent the internet in flow charts.
Cloud Computing Benefits
According to another famous name IBM in cloud computing, there are three major categories of benefits. Let's take a look at each one by one along with their subcategories. The first one is:
Flexibility
This is an umbrella term encompassing scalability, customizability, and access to the cloud service from anywhere and on any device.
Since cloud computing works on a pay as you go plans, a single person can very quickly start up shop with as little resources as he needs. With time, as he grows his business he can acquire more storage, compute power, IT resources and so on, from the cloud servers.
Within flexibility there are five individual benefits:
1. Scalability
A cloud infrastructure scales on demand. It can support fluctuating workloads. Pinterest manages multiple petabytes of data with cloud computing every day, while Spotify uses it to scale its capacity.
2. Storage Options
Cloud storage options are extremely viable. You have the option for public, private or hybrid storage depending on the security needs.
In a manner of seconds, you can receive a large or even an unlimited amount of storage without spending a dime of physical hard drives. Google Drive and Dropbox are the biggest examples of storage options.
3. Control Choices
Organizations have the ability to determine the level of control with services such as software as a service(SaaS), infrastructure as a service(IaaS) and platform as a service(PaaS).
With IaaS, the vendor provides the client with pay-as-you-go access. In PaaS, a service provider offers access to the cloud-based environment. As for SaaS, software and applications are delivered through the internet.
Examples of SaaS, PaaS, and IaaS are respectively, GoToMeeting, Heroku, and Microsoft Azure.
4. Tool selection
To build a solution, users have the option to select prebuilt tools and features according to their needs. Examples of such tools include RightScale, Kaavo, Zeus, Scalr, Morph and so on.
5. Security Features
Included in cloud benefits are virtual private cloud, encryption and API keys that help keep data secure. The major benefit of cloud security is that you can have the same level of security regardless of the scale of your business or services.
Moving on to the second major benefit of cloud computing.
Efficiency
Cloud benefits enable enterprise users to take their applications to market quickly. Since all the resources are managed by the cloud server, users don't have to worry about the underlying costs of infrastructure and maintenance.
Efficiency gives rise to the following individual benefits:
6. Accessibility
Among this long list of advantages, this one is among the top tier. Virtually any device with an internet connection can be used to access a cloud-based application. This is the extent of accessibility cloud computing offers.
A cell phone, gaming console, smart TV, computer, laptop, you can use any of these devices to use your application it will work just fine.
7. Speed To Market
Just as the name implies, you can take your application to market very quickly.
A good example of this concept is the ROR work environment AWS provides with the help of one its tools Cloud9. You can develop your application on Cloud9 which also has GitHub integration option. Once the application is complete, with a few simple commands you can deploy your web application on Heroku.
8. Data Security
Since everything is always backed up on the server, not ever will you lose anything as a result of hardware failures on the client side.
If you are using Cloud9 to code than each and every line of your code is being backed up by the server as you write it.
9. Savings And Equipment
Purchasing and running servers is not easy or cheap.
Business and enterprises can save a substantial amount on equipment with cloud resources. You can utilize these remote resources without having to care for purchase, maintenance, and upkeep costs.
10. Pay Structure
The greatest show of efficiency is in the pay structure of cloud resources. You only pay for the amount of resources you use. This is called a "Utility" pay structure.
Now, moving on the third and the last major cloud benefit.
Strategic Value
Strategic value is what ultimately results in a competitive advantage. This can be attributed to the fact that cloud services are the most innovative technology available. Let's take a look at the individual benefits that strategic value brings to the table.
11. Streamlined Work
When cloud service providers (CSPs) are taking care of the infrastructure, organizations can turn their focus on the actual development. This results in a much more streamlined work schedule, scenarios, and deadlines, ultimately resulting in a quality product or services.
12. Regular Updates
Deploying updates is hassle-free. Deployment of updates can also be automated all thanks to the benefits of cloud computing.
13. Collaboration
As discussed in accessibility, cloud services can be accessed from anywhere in the word. As a strategic value, it allows teams of developers to collaborate on a single project with the same development environment from widespread locations.
14. Competitive Edge
IBM beautifully explain the competitive advantage with this sentence:
"Organizations can move more nimbly than competitors who must devote IT resources to managing infrastructure."
And with this our list of "14 benefits of cloud computing", ends.
Conclusion:
Benefits and advantages of cloud computing can be approached from many angles, and can also be interpreted in different ways. The only thing that remains constant is that cloud computing and its applications have now become an integral part of businesses and enterprises.