Big Data in Healthcare - A Revolution for the Industry
This article provides detailed information about big data in healthcare, its benefits, and challenges and explains how healthcare providers can benefit from this methodology in future.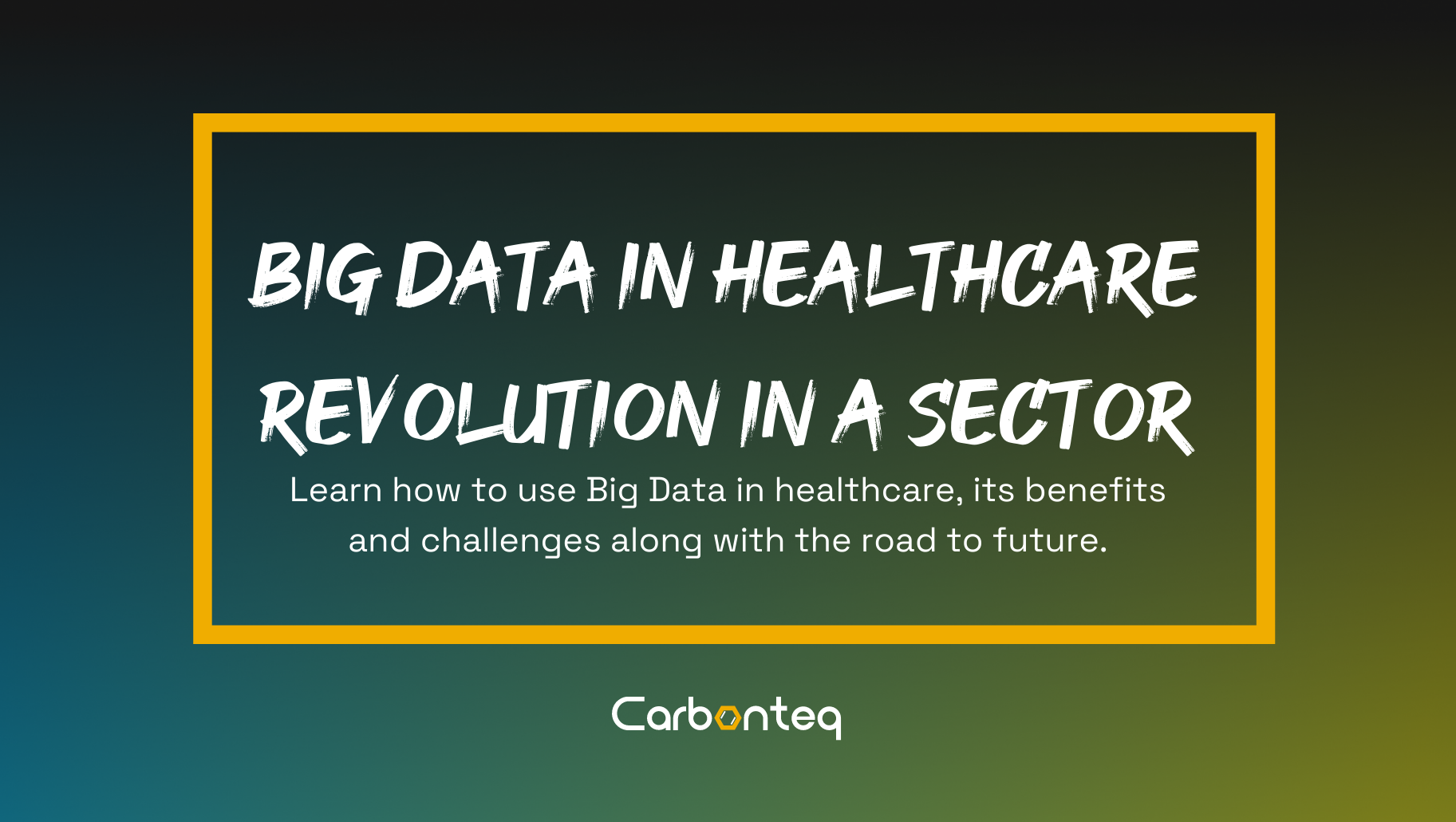 What is Big Data in Healthcare?
Big data is defined as the data, present in a huge amount, that can be accumulated, processed and analyzed for better decision making, problem-solving and innovation. Worldwide, many industries have made use of this methodology, among which healthcare is one of those industries that are fastly innovating through big data. It has not just brought improvements for healthcare businesses but has also brought a significant positive impact on patients' lives. Nowadays, healthcare providers are making decisions on the basis of big data research instead of relying on their experience, which was a traditional approach. Consequently, decisions are more fact-based rather than opinion-based. Big data operates with statistics, from a specific population, to discover new advancements, reduce costs, and prevent diseases. Due to recent technological shifts, healthcare big data collection has moved into the digital realm, making analysis faster and more accurate. "Big data in healthcare" refers to the vast medical data accumulated from different sources such as EHRs, payor records, pharmaceutical research, medical imaging, genomic sequencing, digital wearables, and medical devices.
Sources of Big Data for Healthcare Industry
Big data comes from many different sources, mentioned below, and is combined together afterward for analytics and other uses.
Benefits of Big Data In Healthcare
The number of known advantages of using big data is increasing day by day as people are gradually becoming aware of this trend. After using big data for business purposes, different healthcare providers have listed its various benefits as it has helped them in different ways. Below are some of the most common advantages of using big data in the healthcare industry.
Accurate Treatment
By having more patient insights, healthcare providers are able to make better decisions, fewer cases of guessing, and better overall patient care.
Preventing Cases Before They Occur
Many of the world's fastest-growing healthcare companies have joined their hands with the gadget producers so that they can receive the data directly and can monitor a specific population to prevent cases before occurring.
Reducing Errors
Big data analytics help to reduce errors during the stage of diagnosis, prescription, treatment and monitoring of a patient. Consequently, the number of mishandled cases is reduced, increasing the patient's loyalty towards a healthcare system.
Expanding diagnostic service
Many healthcare companies have built their mobile Apps to give patients greater access to professional care. These Apps advise patients on their medical condition using aggregated data and can suggest appropriate medical care based on input to the app.
Using Health Data For Strategic Planning
Care managers are now able to make better decisions and strategies after getting insights from big data. Analyzing past cases and data helps them to eliminate the mistakes which were made previously. This is a continuous process and the healthcare system keeps on improving day by day through it.
What Challenges Arise with Big Data in Healthcare?
Along with numerous benefits, big data brings a few challenges that are being faced by healthcare companies nowadays. These challenges fall into several major categories discussed below:
Management Challenges
To implement the Big Data strategy, an organization needs to change its way of decision making and doing business. The need for data scientists and IT staff definitely arises which may require the company to alter its IT infrastructure. Furthermore, acceptance towards the change and trust in Big Data analytics is also required from the management's side so that the strategy could be implemented efficiently.
Policy and Process Challenges
An organization needs to address various policy-related issues if it is going Big Data. According to HIPAA regulations, policies and procedures must protect healthcare. Furthermore, validation, access control, and security during the transmission contribute towards task-complication. This issue has been solved to some extent by cloud service providers, perhaps most notably Amazon AWS, which offers cloud services that comply with HIPAA and PHI (Protected Health Information).
Data Aggregation Challenges
This is the most common challenge faced by healthcare organizations. Data is spread across many different sources such as payors, hospitals, government agencies, administrative offices, servers, and file cabinets. Gathering data from these sources and combining it into a standard format, that can be useful for the company, is something that needs a lot of attention and resources.
The Future of Big Data in Healthcare and A Better Healthcare landscape
With the passage of time, a large number of healthcare companies are expected to adopt Big Data Strategy as it has a huge potential to improve medicine, technology, and finance in the healthcare sector. Along with enhanced patient care, this strategy is also going to be significantly beneficial for the marketing purpose, making touchpoints smarter and more integrated. Furthermore, the amount of data available will increase exponentially as the increasing trend of digital wearables and Internet of Things directly affects it. Constant patient monitoring via wearable gadgets and the IoT will become standard and will add huge amounts of information to big data stores. With the help of this information, healthcare companies will be able to treat their patients more efficiently and the healthcare marketers will find it easy to explore and retain more high- value patients. As discussed above, big data helps both healthcare stakeholders, the companies and patients. Patients can expect a better quality of care within and out of healthcare facilities and healthcare companies can compile patient profiles to help them increase customer retention and loyalty.
Summary
As described in the article, Big Data is going to be an asset for healthcare companies. Most of the organizations are already working with this approach and some are yet to explore its benefits. According to ScienseSoft, almost 60 percent of healthcare companies are already using big data and a large number of the remaining ones are open to adopting it in the future. It also states that healthcare organizations plan to further expand their current big data usage with patient segmentation and clinical research optimization.
CarbonTeq's Health Information Technology has also helped many of the healthcare providers, worldwide, in achieving their short term as well as long term goals of business growth and productivity. If you are one of those searching for a dedicated team that can help you go Big-Data on competitive rates, follow this and land where you need to be!