Survival Of Your Business During Coronavirus Outbreak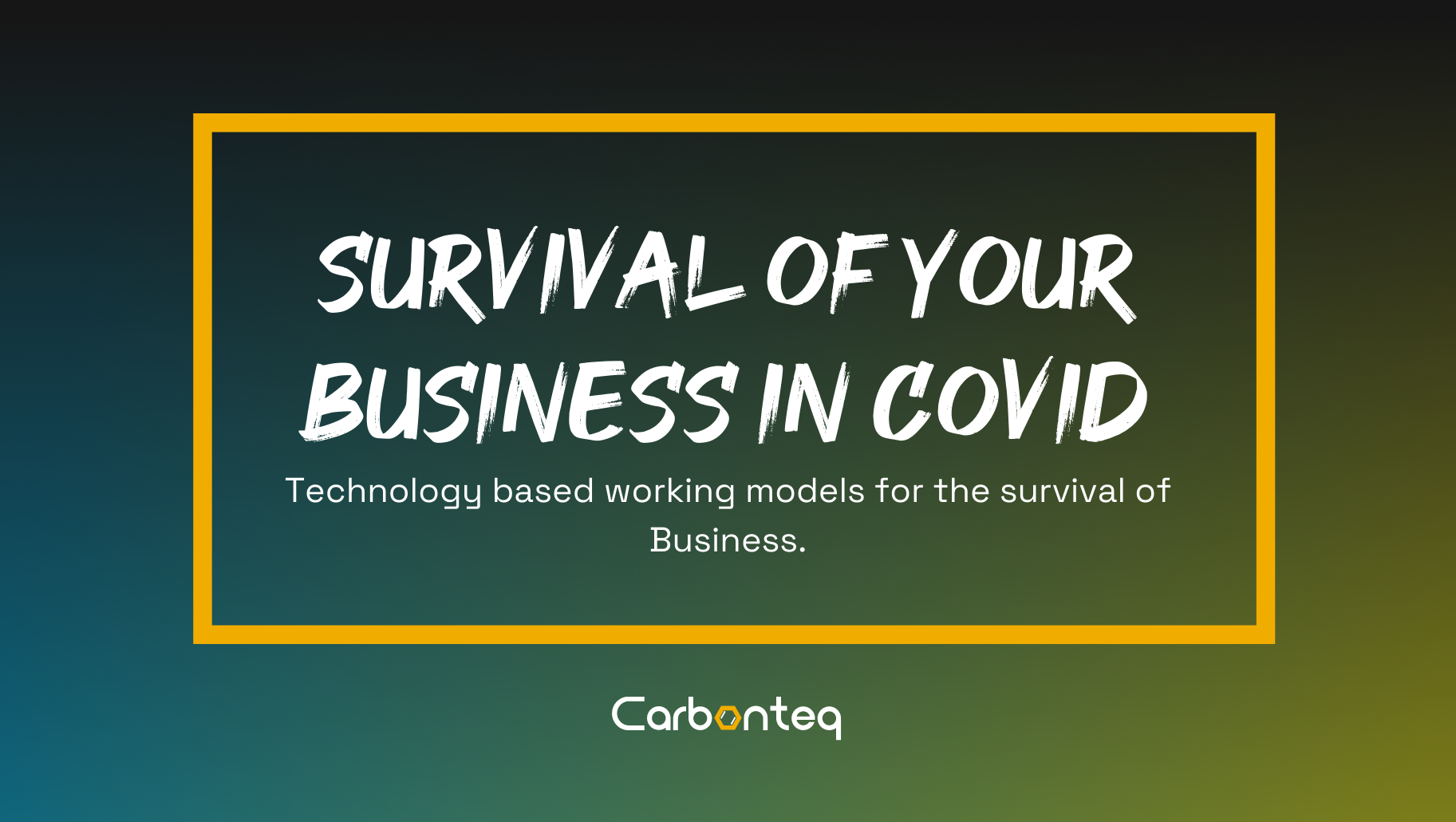 What comes first, the problem or solution? Do we already have the solution for the problem we all are facing nowadays?

Some people have now heard the word "Coronavirus" more times than they have heard their own names throughout their lives. How is it affecting us? Where is it going to take us? Can our businesses survive?

Yes! Still Yes!

Information Technology has always been playing a significant role in problem solving. Let's explore how it can help in dealing with one of the biggest problems that our world has ever experienced.
What is Coronavirus and how is it affecting industries?
Coronavirus (COVID-19) is an infectious disease which causes severe flu, cough, and fever, resulting in an uncontrollable number of deaths throughout the globe. This virus spreads through contact with an infected person or when a person touches an object that has the virus on it, making its way into our bodies through eyes, nose, or mouth. According to John Hopkins, this virus originated from Wuhan, a city in China, and made its way to the entire world, affecting 423,000 people as of March. 25, 2020. Today, Worldometer reports almost 19,000 deaths, caused by this virus, displaying the count increased with each passing hour. The World Health Organization has declared the Coronavirus outbreak a pandemic and Public Health Emergency of International Concern in January. 30, 2020. This emergency has resulted in lockdown in many countries and has drastically affected local and international businesses worldwide. The industries widely affected by Coronavirus outbreak mainly include food, transportation, entertainment, hospitality, retail, education, textile, and sports.
How can businesses survive in the Coronavirus outbreak?
CarbonTeq suggests the following two main models of a growing business, through technology, in the current scenario:
Go Digital
According to the Statista e-commerce report, 23% of the population has started buying online more frequently after the coronavirus outbreak. This suggests that internet traffic has massively increased these days as people are locked down in their homes and have lesser activities to spend time on. Surfing on social media, millions of people click on your e-commerce store's link these days. Due to the availability of time, you can expect increased session durations and high conversion rates. Consequently, you can achieve high revenue (just imagine). Is it magic? No! This is only going to happen if you have focused on your online presence and have planned to develop a cohesive e-commerce store.
Throughout the world, educational institutes are being shut down to avoid the spread of Coronavirus. This has become an obstacle in the learning path and skill development for people, especially the youngsters who are said to be the future of our nations. To overcome this issue, proactive institutes have started practicing online teaching methods. Implementation of this idea creates a demand for learning management systems and custom software. These demands will be met by the IT industry. This whole process of going digital will help different companies generate more revenue and provide more job opportunities to specialists.
Work from home is something we all have been hearing constantly during the past weeks. Most of the companies have allowed their employees to work from homes in order to avoid the spread of coronavirus. This has increased the demand for web conferencing systems, CRMs and ERPs. Zoom, Big Blue button, google meet, FB live, Edmodo, Moodle, and Google suite are already catering to this market but the question still remains…. Are they enough to cater to the needs of the market? Are you ready to provide custom software? Can you bring innovation?
Step into the emerging industry: Digital prevention
The world is curious. Thousands of people are losing their loved ones. All they need to know is regular updates on coronavirus outbreak, the current medical scenario, guidance towards prevention, and symptom tracking.

To cater to these needs, CarbonTeq suggests the development of a web app with the following features:
Regular and updated count of cases, deaths, and recovered patients
World patient map
Symptom Tracking tool
Directory of local testing centers
Latest discoveries
Predictions
Suggestions from leading health providers
Preventive measures and guidance
Blogs and worldwide trending articles on coronavirus
Statistics and analytic
CarbonTeq is not only capable of designing and developing systems with the above-mentioned features but can also cater to your custom needs and can provide you with on-demand features for your Web Apps.
CarbonTeq for you
Where the world is hopeless, team CarbonTeq is still thriving with its full potential to achieve success for itself and for other companies of different industries worldwide. The business model of the world was already predicted to shift to digital but Coronavirus has acted as a catalyst, creating urgency in the shift. This is a time of survival! This is the time of going digital!
Public Service Message by CarbonTeq
Prevent the spread of Coronavirus through regular hand washing, covering mouth and nose when coughing and sneezing. Avoid being involved in gatherings and close contact with anyone showing symptoms of respiratory illness such as coughing and sneezing. Save lives, stay at home!