Leading Web Development Trends Of 2019
Web developments trends are ever changing. Even a minor change has a butterfly effect on the whole industry.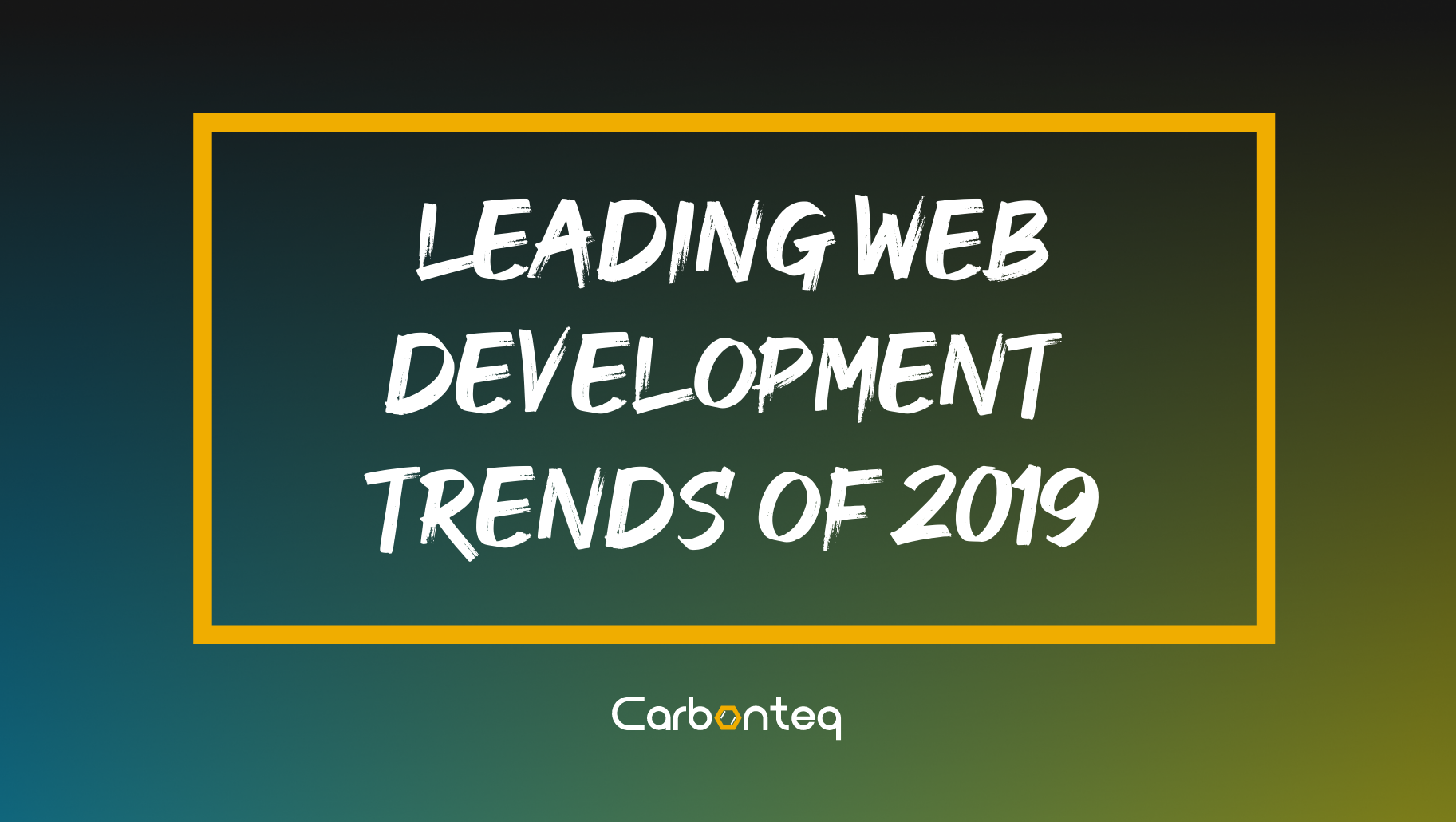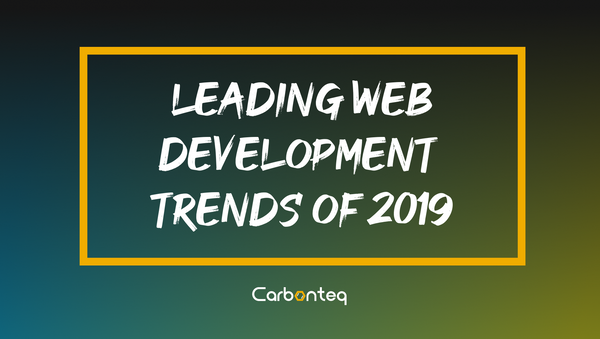 As time goes by new technologies emerge and the old ones die out.
There was a time when Static Websites were on the rise. Then came the age of cell phones. Within a couple of years, the trend of static web pages receded and Dynamic Web Pages were the new thing.
Web developments trends are ever changing. Even a minor change has a butterfly effect on the whole industry.
With the advent of voice operated home assistance products like Alexa, Google Assistant, Siri and Cortana, developers and SEO experts have shifted their efforts in optimizing websites for voice searches. A Q/A section, which was just optional, suddenly became compulsory.
Ever since cell phone users surpassed desktop users, the focus on creating faster and easier to navigate websites increased tremendously. This gave rise to a number of trends like the Accelerated Mobile Pages and Single Page Web Applications.
Blockchain technology has developed and advanced in leaps and bounds. Industry giants like IBM and Amazon are developing their own global blockchain systems. The public ledger has even found its way into a project by Walmart. By using a public ledger, Walmart is designing a product that will give you information on all products that you buy along with their origin down to the farm from which product ingredients were taken.
Without further ado, let us dive into the web development trends of 2019.
1. Accelerated Mobile Pages
Google launched this project two years ago in February 2016. This project is gaining momentum ever since. So far, web developers have created over 2 Billion pages, billion with a "B", using AMP. Statistics by searchenginewatch indicate that 58 AMP pages are created every second.
The popularity of accelerated mobile pages is because of their super-fast loading speed.
AMP does this by striping down a web page to its bare minimum. It also removes any scripts from the page that can make it slow to load. Since search engines reward those pages that load super-fast, creating a website with this technology also boosts its position on Search Engine Result Page (SERP).
Currently, about 53% of internet traffic is from a cell phone device and tablets. AMP also adds more effect to SEO optimization for mobile devices.
Components Of AMP:
It consists of three components:
AMP HTML. Standard HTML with AMP-Specific extensions.
AMP JS. This is a fast loading script responsible for loading repository.
AMP CND. This is an optimized network. Used to cache and quickly adopt pages to AMP code.
2. Blockchain
Last year there were huge dips in the value of Bitcoin, which for average Joe is a synonym of blockchain.
If we take the technology "Blockchain" under consideration, it was an awesome year for it. This year will see more advancement in this technology than ever before.
In the past "snake oil traders" made -Get Rich Overnight- a staple benefit of the blockchain. Investors and board of directors of small businesses who knew nothing about the blockchain wanted some of this snake oil. They spent too much and got nothing in return.
But this trend is subsiding as the general population is understanding what this technology actually is. This year we will see a number of genuinely helpful products and services using blockchain including the ones offered by industry giants.
Major Innovations Through Blockchain Development
Following are some of the industry leaders, who are employing blockchain for something innovative.
Walmart: In order to ensure food safety standards Walmart has taken steps to implement a blockchain system. Using a tamper-proof distributed database, Walmart will ensure that every individual involved in the supply of products can track back the ingredients to the farm on which they were grown.

IBM: IBM has implemented its own blockchain-as-a-service platform. Using this platform, anyone can deploy blockhead components in any environment they wish.

Amazon AWS: Amazon announced its blockchain development plan for the years 2019 as well. It will allow its users to create blockchain networks. The networks Amazon creates are based on open source frameworks like the HyperLedger Fabric and Ethereum.

Web development trends for 2019 place Blockchain among the top contenders in its list.
3. Progressive Web Apps
Progressive web apps are also known as PWAs. Since more than half of the users on the internet surf using mobile devices, there was need for a better way to target customers on mobiles.
Three technologies emerged in order to fulfil this necessity.
Native Apps
Responsive Websites
Progressive Web Applications
Both Native Apps and Responsive Websites had their limits in one way or another.
A native app was fast but the adoption barrier was too high. It proved very difficult to make a customer download an app and use it regularly. The responsive website was easier to access but proved inefficient on a small screen.
Progressive Web App provides a middle path between the two. It works like a native app but there is no need to download the application. The application is always accessible through the website and loads instantly.
According to Statista by implementing PWA, tinder reduced their load time from 12 to 4.69 seconds. Uber reduced their web page load time to 3 seconds and Pinterest increased its user engagement by 60%.
This technology is here to stay and will stay trending for a number of years to come.
4. Single Page Applications
Reloading is out and scrollable sections are in. Single page web applications have found their way to the latest trends in web development 2019.
A single page application is not something that is brand new. The trend has been in existence for some time now and is still gaining popularity among website developers.
Users are favoring scrolling over navigating to other tabs. This is especially true with cell phone users. With this approach all, the data is displayed on one page alone and thus there is no need to navigate to other pages repeatedly.
Web developers love single page application for its seamless output on all devices and the ease it provides in creating cost-effective hybrid applications.
Development trends come and go but this one is here to stay.
5. Voice Search Optimization
The technology of voice search is growing at an extremely fast rate. Every day more and more people are making voice searches on google. One in every five searches on Google is a voice search.
This sudden boom in voice searches can be attributed to the increasing popularity of home assistants such as Alexa, Cortana, Siri, and Google Assistant.
According to statistics 33 million such voice first devices are in use and by 2020 voice search is expected to make up for 50% of the online queries.
The trend of web development for optimized voice searching is the new thing. Voice search is going to have a similar impact as the cell phone users had when they crossed 50% of the internet using population.
Voice searching has a deep impact on businesses. Including higher ranking in SERPs, better user acquisition and increased traffic on the website.
Conclusion
Web development trends in 2019 are going to bring some major changes in the online world. If you want to get on the fast lane then start thinking about getting in line with the latest trend in technology.